The Air Purifier Zero Compact has been granted the iF Design Award
The Air Purifier Zero Compact has been granted the iF Design Award
We are proud to announce that the modern and outstanding design of the Winix Zero Compact, has been recognized with the prestigious iF Design Award.
The Zero Compact is the latest of our Air Purifiers that have been granted a Design Award proving once again that Winix Air Purifiers not only stand out for their high performance, and the quality of their materials but also for their design.
The WINIX A332, our Amazon-exclusive model has been also rewarded with the iF Design Award this year.
iF Design Award
Each year, iF International Forum Design GmbH organizes one of the world's most celebrated and valued product design competitions: the iF Design Award. This award is recognized around the world as a symbol of excellence with almost 10.000 submissions in 2021 across 60 countries.
Their six followed guiding principles as mentioned on their website:
To identify, support, and promote good design
To raise awareness of design among the public and the role it plays in our lives
To help companies integrate design into their long-term strategies
To safeguard the role of professional designer and boost awareness for this job profile
To effect social change through design
To support talented young people and create a public platform for young designers
About the Winix Zero Compact:
The Winix Zero Compact is Winix's newest Air Purifier which is part of the 2021 line-up. This device doesn't take up a lot of space but its performance stands out. With a CADR (Clean Air Delivery Rate) of 250 m³/h, the Winix Zero Compact will provide you and your family with the cleanest air in rooms up to 50m2 and will remove air pollutants like Viruses, Bacteria, Pollen, Pet dander, Smoke, Mold spores, VOC's (Volatile Organic Compounds) and Household odors. This is possible thanks to its 4 stage filtration system: Fine mesh pre-filter, Carbon filter, True HEPA filter (99,97%), and the unique Winix PlasmaWave Technology.
Combined with its affordable price, the Zero Compact is the best Air Purifier on the market for small- to medium-sized rooms.
We believe that performance should be the number one concern when choosing an Air Purifier to keep your family healthy. However, the Air Purifier should also be attractive to look at to make it blend in cleanly with the rest of the furniture. Winix has designed the Zero Compact with elegance in mind. This is evident by the placement of the touch panel and the absence of buttons on the device itself.
Because of its cylindric shape, it looks modern and can be placed almost anywhere in a room without taking up too much space.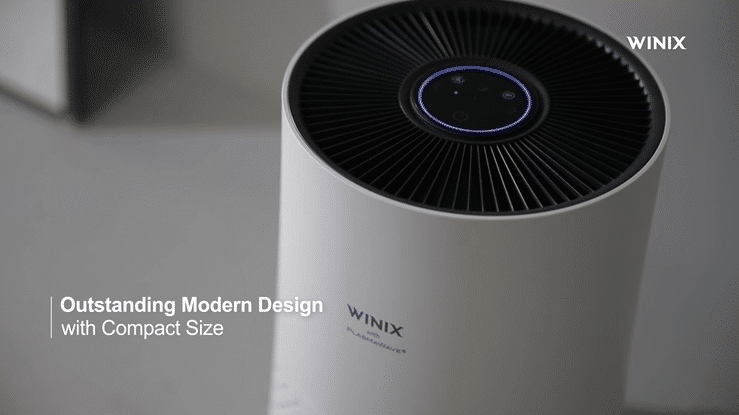 Air Purifiers for healthy air